401(K) PLAN ADVISOR SERVICES
Are you challenged by the volume of information and changing federal regulations required to manage your company's retirement plan?
Our team of 401(k) plan advisors is well versed in helping our plan sponsors craft solutions. Our expertise places an in-depth focus on time tested investment management processes that leverage the power of academic research, low cost solutions for participants and owners, behavior changing participant education tools, and plan design services. We believe in full transparency of all fees and the disclosure of interconnected relationships that may exist between service providers.
We are committed advocates for those charged with the investment and administrative duties in qualified retirement plans. Let us help you make sense of your company's retirement plan.
---
OUR 401(k) SERVICES INCLUDE
Low Cost Investments
Liability Management & Fiduciary Oversight
Competitive Supervision Costs
Plan Design Consulting
3(21) and 3(38) Advisory Services
Investment Policy Development
Asset Allocation Services
Investment Menu Design
Quarterly Investment Reviews
Fund Replacements & Manager Searches
Online Education Tools (401kbuddy™)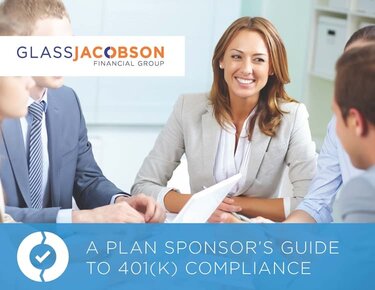 ---
A Plan Sponsor's Guide to 401(k) Compliance
Click below to learn more about what we cover in this guide.
Learn More
What Makes Our 401k Services Different
---
CEFEX CERTIFIED
Glass Jacobson Financial Group is part of a group of investment advisors that has successfully completed the independent certification process by the Centre for Fiduciary Excellence. This recognition validates something we already know—we hold to the highest fiduciary standards and always act in the best interest of our clients. 
---
---
---
Creative Plan Design
Glass Jacobson Financial Group designs plans based on our clients' objectives, the nature of their businesses, and employee demographics. Whether the objective is to maximize elective contributions, increase participation, or reward tenure, we work with our clients to design a plan that meets their needs.
---
401kbuddy®
401kbuddy® is a series of whiteboard animation videos that walks the employee through the entire process of enrolling. 401kbuddy® isn't a simple marketing gimmick, but a research proven tool that increases enrollment and contributions in 401k plans.
READY TO SPEAK WITH ONE OF OUR 401(k) ADVISORS?
Send us a message below and we will be in touch!